I received my bachelor of law degree from the University of Saskatchewan in 1999, after receiving a Bachelor of Arts in 1996 from the University of British Columbia. I was called to the BC Bar in 2000 after completing my articles with a full service law firm in Trail, BC. I worked throughout the West Kootenay from 1999 to 2004, and then returned to live in the Lower Mainland. After doing locum work in the East Kootenay I joined McEachern Harris & Watkins in 2005, and have practiced in Maple Ridge and the surrounding area since 2005. I have experience in court at the Supreme Court and Provincial Court levels, including acting for clients on BC Benefits, including cross-province and cross-border support applications, as Director's counsel in child protection matters, and for legal aid clients.
Despite working extensively in family and civil litigation, I have always had an interest in mediation and collaborative law, which included course work in alternate dispute resolution while completing my law degree. I have experience completing negotiated family law agreements, including using 4 way meetings and mediation to settle agreement terms. I have participated in civil, family, and child protection mediations throughout my career, and have seen how effective mediation and other collaborative processes can be when dealing with extremely high conflict cases. I completed my collaborative family law training in the Kootenays in 2000. Although I had a strong interest in mediation I did not begin to train as a mediator until 2010. I initially completed my family law mediator certification with the Law Society of BC in 2012, and re-certified with the Law Society of BC in 2016.
Court can be a stressful, challenging and expensive method to end a relationship. Collaborative family law is an excellent option for people who are looking for greater control over the separation process and are wanting to have their opinions, and those of their children, respected and considered. It strives to preserve ongoing relationships between parents, children and other family members and to allow the family to create a new structure for the family during a stressful and difficult time in everyone's life. If you would like to discuss your options for separation and divorce, please contact me at (604) 467 - 6951 with your questions, or email me at [email protected].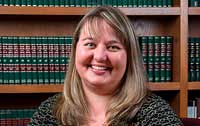 Practice Areas:
Family mediation
Collaborative law
Family law
Child Protection Case Consultations
Education:
Bachelor of Law from University of Saskatachewan, 1996
BC Bar, 2000
Collaborative Family Law Training, 2000
Family Law Mediation Certificate from the Law Society of BC, 2012 (re-certified 2016)
Memberships:
Law Society of BC
The Canadian Bar Association
The Collaborative Association serving the Lower Mainland of British Columbia
New Westminster Bar Association